Invited by NexT International Film Festival in Bucarest as a sound designer
Life is full of surprises: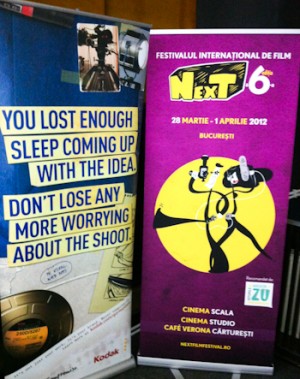 A short film by Serge Marcotte, The Greens, for which I did sound design, was selected by a film festival in Romania (Bucarest, March 2012). This festival differs from others in that it welcomes both filmmakers and sound designers. On the thirty films in competition, about half were represented by the director or the sound designer, or both. Screenings, meetings, seminars with themes, group meals were on the menu!   Cultural exchange guaranteed!
How come this invitation for sound designers?
As a tribute to a pair of young Romanian director-sound designer, who tragically perished together in a car accident, the "Next Cultural Society" created the Next International Film Festival.  The creative approach of Andre Toncu, the sound designer of the Romanian duo, now serves as an inspiration for all generations of filmmakers and sound designers, a wish that he had made during his lifetime.  What a powerful example of the importance of sound in the film process. I would love not to have to convince anyone of that.

We attended a seminar by Michel Klochendler, about his sound editor career in France. Here is a recent interview.   Humbly relating his experiences with Téchiné, Berri and later Resnais, he shared with us the emergence of sound design in his cinema.
I asked him to talk about his relationship with his fellow picture editors, mixers and Foley Artists. Often combining the functions of the picture and sound editor, he is well placed to tell the role of the picture editor in the process. He first gives form to ideas from the editor, who knows the film more intimately than him, early in the process. About Foley, he confirmed that Foley editing is not practiced a lot in France.  Changes seem to be mostly limited to small adjustments at the mix.  For me, good synchronization of Foley with Dialogs and Fx is not the sole responsibility of the Foley Artists or Re-Recording Mixers. The performance of the Foley Artist has to be refined in the final moments of sound editing, just before mixing, with the dialogs in their right place.  Must we first have everything on time, with a budget…  The will is not enough.
This trip to Bucarest for a week was also an opportunity to capture sounds of this Eastern Europe city. Walking down streets, boulevards, roundabouts and Piaţas, here is an example of one at night, Bucarest goes to sleep late…

In total, I have collected over a hundred sounds, which will be used in future projects.
Sincere Romanian and international friendships were born from my participation to this Festival, which will lead, one day perhaps, to other abroad projects.