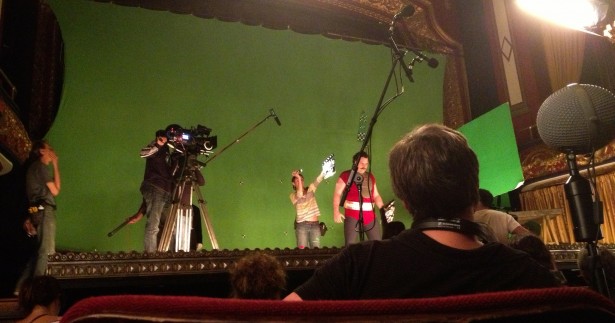 We really benefit from getting involved early in the production process of a film. A good place to start is by reading and analyzing the script in order to evaluate the sound budget in regards to the different fields of sound postproduction: Dialogue, Foley, Sound Effects, and eventually Mix. It is also a good time to evaluate the specific needs a project will have in terms of requested sound. One of my latest films is about a French Canadian, Louis Cyr, who became the strongest man of the world in 1892! As much of his story involves him performing his strength in front of audiences around the world, the film has many scenes involving crowds. For these, I suggested being on set during six of the shooting days as a second sound recording team. These days on the set were very valuable and a great learning experience, both as a sound recordist and for the steps ahead in postproduction.
It was an occasion to meet with Simon Poudrette and Norman Bernard, respectively sound recordist (mixer) and boom operator. They were very generous in welcoming us (my assistant sound designer Paul Col and I), helping us to improve our recording habits. Although it is quite obvious that a location sound recordist and a sound designer should meet prior to and during the shoot (to unite their efforts by discussing the script, field information, and potential difficulties, as well as sharing valuable information about location sound recording strategies), there are often a lot of things that prevent this from happening. I put my energy in the opposite direction, this time with success!
Continue reading to listen to multiple stereophonic microphone comparison!

Read more →