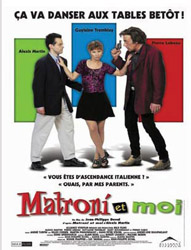 The clash between two worlds, an old rusty street mob meets a young pretentious intellectual…
Sound design ideas were on the screen: scrapyards, low squeaks, metal impacts, rattles, and industrial sounds.  We were aiming at the laugh as well as the contrast and entertainment.  I played with both worlds of the main characters in choosing the proper sounds for each of them.
One goal was to bring the characters to the edge of their personnality and emotions with their sounds.  Matroni's car, for example, was an old rusty, grindy, growly beaten-up V8 engine!  Much like its owner!  Split screens with hits and rips and a car chase.  No Pro Tools yet. I was on Fairlight!
The "too much" line is always different from one film to the other as it depends upon many factors.  I tend to challenge that line with the director to make sure I get to know where it is. Crossing that line is a good way to find it.  In Matroni et Moi, I was able to go further because of the story and the characters' expressions.
Links:
Credits:
Country:
Canada
Production Company:
Max Films
Year:
1999
Director:
Jean-Philippe Duval
Producer:
Roger Frappier
Luc Vandal
Music:
Benoît Charest

Maxime Morin

Supervising Sound editor:
Martin Pinsonnault
Sound designer:
Martin Pinsonnault
Sound effects editor:
N.A.
Production sound mixer:
Gilles Corbeil
Dialog editor:
Claire Pochon
Foley artist:
N.A.
Foley recordist:
N.A.
Adr Recordist:
N.A.
Adr Supervisor:
N.A.
Re-recording mixer:
Hans Peter Strobl
Bernard Gariépy-Strobl