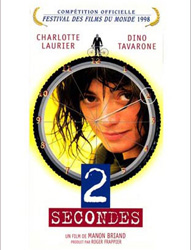 Sound was surely going to be in the forefront of this film.  The film opens with a Mountain Bike competition in the United States.   During the races, the Mountain Bikes are real jets.  The film evolves around a Bike Couriers job in Downtown Montreal; the bicycle is a character in the film… I love bikes.
Manon Briand gave it a punchy, young, urban and moody look.  I took the same path with sound.
Heavy Downtown traffic, day and night, cars, honks, sirens, pedestrians, were recorded for the project.
Foley bike sounds tend to miss the feeling of rolling and pedalling, that is why I always add a specific track for the bike, using the grinding and rattling of foley on close-ups.
Links:
Credits:
Country:
Canada
Production Company:
Max Films
Year:
1999
Director:
Manon Briand
Producer:
Roger Frappier
Music:
N.A.
Supervising Sound editor:
Marcel Pothier

Martin Pinsonnault

Sound designer:
Martin Pinsonnault
Sound effects editor:
N.A.
Production sound mixer:
Yvon Benoît
Dialog editor:
Claire Pochon
Foley artist:
Jérome Décarie
Foley recordist:
Jocelyn Caron
Adr Recordist:
N.A.
Adr Supervisor:
N.A.
Re-recording mixer:
Hans Peter Strobl
Louis Hone
Liens:
http: //www.maxfilms.ca/fiche.php?page=2&film=2