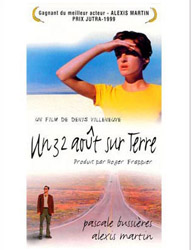 Done back-to-back in 1998 with 2 Secondes, these two films were my first as official sound designer.
32 août sur terre was pretty straight forward in terms of action, but the mood, the edges, the jumpcuts, the contrasts, the loneliness, the lack of communication between the characters, the silence, the emptiness, this was my sound design inspiration.
Having barely any music left plenty of room for ambiences.  Ambiences are very powerfull to transcend the mood, the way the characters feel inside.
Sharing a mix with Hans Peter Strobl, Roger Frappier and Denis Villeneuve was a great learning experience.
Links:
Movie Trailer:
Credits:
Country:
Canada
Production Company:
Max Films
Year:
1998
Director:
Denis Villeneuve
Producer:
Roger Frappier
Music:
N.A.
Supervising Sound editor:
Marcel Pothier
Sound designer:
Martin Pinsonnault
Sound effects editor:
Christian Rivest
Production sound mixer:
Pierre Bertrand
Dialog editor:
Claire Pochon
Foley artist:
Jérome Décarie
Foley recordist:
Jocelyn Caron
Adr Recordist:
N.A.
Adr Supervisor:
N.A.
Re-recording mixer:
Hans Peter Strobl
Louis Hone