Portable and discrete sound recording kit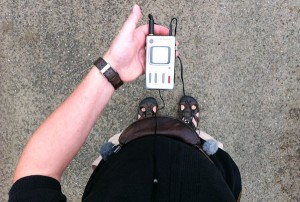 I often carry with me an ultra portable recording kit for weekends,  in the countryside, city walks and other public places.  In addition to being compact and discrete, it reproduces the environment, it's acoustics and specificity.
This is a binaural recording system that I have personally fitted into a bag that I wear around the waist. It produces a smooth and natural stereo sound. It is particularly immersive. It is very realistic to headphones listeners.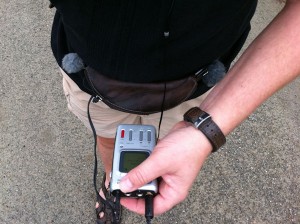 It consist's of a pair of DPA 4060 omnidirectional microphones mounted and self powered by Core Sound battery box(here) and a M-Audio's MicroTrack I.  The mic preamps of the recorder are not the ideal, I have to say, but I usually don't need to push them too much.  It's a gain in portability and discretion.  All this comes in the bag. I can go almost anywhere.  It is worn around my waist because I'd rather have the mobility of my head at all times. The Rycote's and the mics are on both sides of the bag.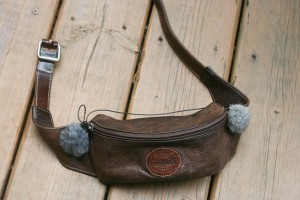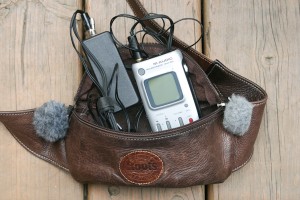 Here are examples of sounds I recently recorded, finally updated to the site:
Waves Atlantic Ocean High Tide by martin pinsonnault
I shot this video with the Iphone 4 and synchronized it with the sound recorded with the binaurals.  Beside the sounds of the small waves on the beach, notice the pedestrians towards the middle and the end, you will hear the richness and definition of these microphones.
For the technical procedures, the sounds were recorded at 48/24, and imported in Pro Tools, and were  "bounced to quicktime movie" after they were synchronized.  A very practical feature we have in PT!

The sounds of small waves are very delicat and complex sounds.  Waves crash, water surface lap, surf, pebble and foam are different depending on hearth morphology and weather conditions.  The Nature becomes the actor.  Films with scenes of waves and water are always a big challenge for sound editing and sound design. Pitched, eq'd and processed, the sounds of waves can be used at multiple utilities.  Having many original choices is a great asset!  Underwater sounds are another universe to explore.
For those who have missed it, for your needs in water sounds, get my independent collection MPSFX_WATER01
Feel free to add impressions, questions, experiences or other recordings setups, that are  both sharing quality and discretion.