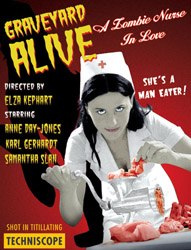 To this date, this film is a special one for me.  Elza Kephart came to me with her self-financed horror zombie movie.  The film was shot with no sound, it was a great occasion to do everything from scratch and not having to deal with noisy original sound.  It was entirely revoiced.
One original sound concept for the entire movie was to keep the ADR roughly edited with no real dialog processing, such as reverb and EQ, so it really looks and sounds like a bad translation or dubbing, something I avoid normally.  It took a while to assume it though…  As a spectator, you always know you're watching a movie.  I proposed a sound aesthetic that reflects the budgetary constraints of the production!
The hospital presented many sound design possibilities with rattles, rumbles, tones, buzz, and long reverbs.
It is a very good Zombie Movie!
Links:
Credits:
| | |
| --- | --- |
| Country: | Canada |
| Production Company: | Bastard Amber Productions |
| Year: | 2003 |
| Director: | Elza Kephart |
| Producer: | Elza Kephart, Patricia Gomez |
| Music: | N.A. |
| Supervising Sound editor: | Martin Pinsonnault |
| Sound designer: | Martin Pinsonnault |
| Sound effects editor: | Anton Fischlin |
| Production sound mixer: | N.A. |
| Dialog editor: | N.A. |
| Foley artist: | Tchae Measroch |
| Foley recordist: | N.A. |
| Adr Recordist: | N.A. |
| Adr Supervisor: | N.A. |
| Re-recording mixer: | Martin Pinsonnault |