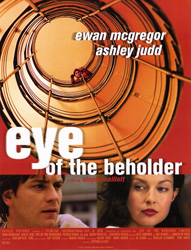 Working with Australian director Stephan Elliott, also known for The Adventures of Priscilla, Queen of the Desert, is still a very special moment for me even today.  The Director's drive was strong and very inspiring for me creatively!  He was on High Voltage!  I am ready anytime for him again!
18 weeks of sound editing. I had time to play with the sounds.  Building more layers of large frequency stuff, with pitch shifts more than ever before.  A lot of the richness and quality has to do with the time we have to do it.  The more time we have, the more the result becomes original, rich, unique and personal.
A lot of sound design areas, subtles and punches, deserts, downtowns, natures sounds, crickets… hiss… steams and squeals, extreme close-ups, transportation, trains, planes, cars, accident, moves, trains, weird church bells…
Sound design of electronic devices was done using a lot of insect sounds (crickets, cicadas) edited in bits and pieces, reversed and pitch shifted to the extreme to develop a complete language of operation with Ewan McGreggor's spying tools.  All this to give it a more organic sound.  He is weird and having the sound of his tools mixed-up with his own thoughts and feelings, enhances the experience of the spectator in being closer to the character emotionally.
His video recorder gun at the beginning was done by going through a ring modulator that we used to make the move changes that were necessary to alter the sound texture as he moved the beam through sound occurrences.  Thanks to Guy Pelletier for his ingenuity!
Breathings, moans, gasps, were added on top of realistic moments in order to install a special tension, weird mood and obsessive sounds.  They are good transition sounds.
The music was done by Marius Devries, a member of Massive Attack, setting the tone for an actual score and a good blend with my high-tech and moody low frequency sounds.  It's all about emotions and senses.
The Backgrounds were premixed separately, which was something special for me at that time; we were used to mix everything up front.
Credits:
| | |
| --- | --- |
| Country: | Canada, UK, Australia |
| Production Company: | Filmline International |
| Year: | 1999 |
| Director: | Stephan Elliott |
| Producer: | Nicolas Clermont |
| Music: | N.A. |
| Supervising Sound editor: | Viateur Paiement |
| Sound designer: | Martin Pinsonnault |
| Sound effects editor: | Martin Pinsonnault |
| Production sound mixer: | Claude Lahaye |
| Dialog editor: | Guy Pelletier |
| Foley artist: | Jérome Décarie |
| Foley recordist: | Jocelyn Caron |
| Adr Recordist: | N.A. |
| Adr Supervisor: | Kirby Jinnah |
| Re-recording mixer: | Hans Peter Strobl |