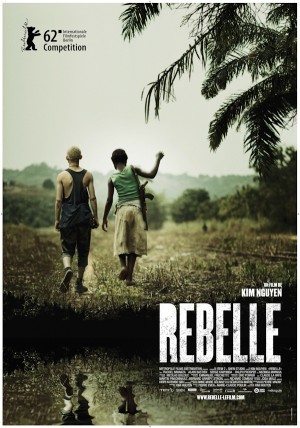 I met Kim Nguyen in 2004 for a short film he directed in which I did the sound design: The Glove.
Most of Quebec films have a form of québécitude in the subjects, this is not the case with War Witch, apart from what comes from Kim Nguyen's head! African characters and a story of child-rebel soldier seen by the eye and ear of Quebecers. A young girl is kidnapped and becomes a soldier to fight the government. As the film evolves, she becomes a powerful exemple of resilience.
My first question for Kim was what kind of sound we were going to assign to the film, would it be a realistic illustration or a little more … A few more questions when screening allowed me to understand that he wanted to stick to reality, in respect to the characters and their reality. We talked about general aesthetics, about Fish Tank, and also, of course, Saving Private Ryan and few other good war movies. He hoped that the sound design takes the lead on a few occasions, chasing the view of the main character, if not her thoughts. He wanted the guns to be powerful, the forest to sound authentic and Foley to be seamless. Music cues come come from the Album Soul of Agola. It is mostly sources on a very rare occasions. The table is set. Let's start sound design!

Having anticipated the post-production to happen from November 2011 to February 2012 in the mix, we would have had eight weeks to complete sound editing and three weeks of mixing in February. Unfortunately, we had to change the schedule to stay ahead of postproduction mixing in early January, in the eventuality of a selection at the Berlin Film Festival. Our efforts were later justified by the selection of the film at the Festival, which forced us to finish early! It is always heartbreaking to be constrained by tight schedules or deadlines. Some would say that it's part of our business … I never get use to it.
Having no original sound of this region and few sounds of war, it was imperative to make sure we had all the sound elements to make the original film sound and it's international version. With the help of producer Pierre Even and Marie-Claude Poulin and Sound Mixer, Claude La Haye, we decided to focus first and foremost on wild sounds and sounds from shooting. By recording a large amount of M/S atmospheres during shooting, by adding a second M/S pole on many action scenes, by accompanying Kim at every moment of his film process, by coming to the mix for hours with his ears, talent and taste, Claude really deserves much credit in the film sound design. It should be noted that he works with a complete and high quality recording equipments with Cantar X2, 8 tracks with two microphones Schoeps CMIT 5U blue and a couple M/S Schoeps (MK41, MK8), a real tool of choice for the recording of our raw material, the sounds.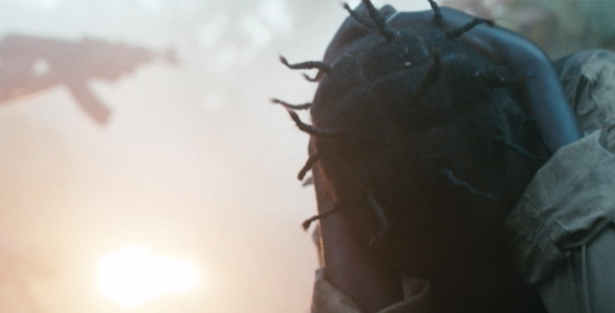 I have listed and cataloged over 400 sounds into M/S, who have served in sound editing thereafter. It took us, to Jean-François Sauvé, sound editor at Vision Globale and me, around thirty days to complete the sound editing process. Claire Pochon carefully handled dialog and narration editing. As for the sounds of AK-47's, it is by combining the best synchronized recordings added with punctuation from various other sources that I was able to build the gun tracks…
This film provided me the opportunity to add other sounds to my personal sound library. These packaged libraries give an instant extra and are an incredible value in sound design compare to the cost… Sounds of the low impacts of dust and rocks of different volumes could have hardly been done with studio Foley. So I bought Rocks Sound Library CRFX-002 from Chuck Russom FX to complement and add textures. I've used several in the big shooting scene. I also bought the collection of sounds of AK47 EFX PACK of EFX SOUND LIBRARY. I found closer gun sounds and manipulations, fatter sounds for close ups!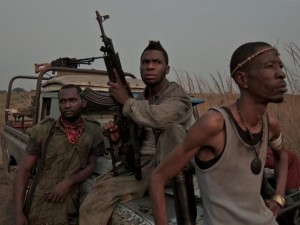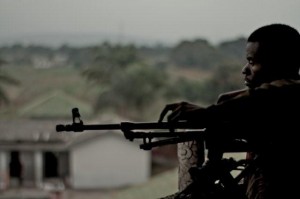 We added many textures of sand, soil, rocks and vegetation in varied size and shape during Foley process. We also rented two guns similar to the ones we find in the film.
The mixing of the film was held for three weeks, including Print and playback. I was with re-recording mixer Bernard Gariépy Strobl, Kim and Claude. Without premix, Bernard mixed meticulously the soundtrack as a knit in a creative team effort. Confident, Kim supported us in developing the aesthetics of the film sound in the short time we had left.
In Berlin, Rachel, the main character, won the Best Actress Award, a striking start! Films have a history that goes beyond the film itself. The brief public history of War Witch suggests the best for the future.
A unique sound from this film is a metal door. It is one of the key element of sound design of the film.

Credits:
Country: Canada, France
Production Company: Item 7,
Year: 2012
Director: Kim Nguyen
Producer: Pierre Even
Marie-Claude Poulin
Supervising Sound Editor: Martin Pinsonnault
Sound Designer/Editor: Martin Pinsonnault
Jean-François Sauvé
Sound Mixer: Claude La Haye
Boom Operator: Francis Péloquin
Dialogue Editor: Claire Pochon
Assistant Sound Editor: Jean-Philippe St-Laurent
Foley Artist: Simon Meilleur
Assistant Foley Artist: Fanny Dubois-Nguyen
Foley Recordist: Daniel Bisson
Re-Recording Mixer: Bernard Gariépy Strobl
Technical Assistant: Christophe Bertrand
Yanick Gauthier
Gabrielle Labelle Joly
Louis-Antoine Lassonde