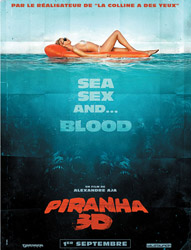 A lot of the sound design was primarily done for the temp mixes.  I had to finish sound design and overall sound editing according to the VFX temps and bring it to the mix.  The idea was to use very crispy, irritating sounds and add them to scare, discust and surprise and… more.  I processed a lot of the sounds, with pitch shift, Pitch 'n Time, eq's, compressors and limiters, to build an aggressive sound.
For this, more is more.  No room for silence.
For the « Jumps! » as Alexandre Aja was saying, no sound prelap for all the hits in order to provoke the strongest surprise in the audience.  A lot of trimming on the attacks to make them sharp and viscious.
Putting my toes again in water for the first time after this film, I had some worries at first…
The final result is surely a unique sounding experience.
Credits:
Country:
USA
Production Company:
Dimension Films
Year:
2010
Director:
Alexandre Aja
Producer:
Mark Canton
Grégory Levasseur
Music:
N.A.
Supervising Sound editor:
Marcel Pothier
Martin Pinsonnault
Sound designer:
Christian Rivest
Martin Pinsonnault
Sound effects editor:
Antoine Morin
François Senneville
Jean-François Sauvé
Denys Dufresne
Ian Herzon
Production sound mixer:
Michaek B. Koff
Dialog editor:
Guy Pelletier
Foley artist:
Guy Francoeur
Foley recordist:
Jo Caron
Adr Recordist:
N.A.
Adr Supervisor:
Mark Lanza
Re-recording mixer:
Myron Nettinga
Marti D. Humphrey
Shayna Brown
Todd Beckett
Louis Gignac