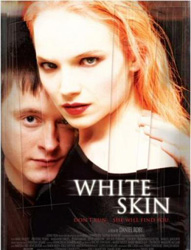 This is a realistic vampire love story.  We wanted the spectators to think it would almost be possible to be true.  That set the tone for sound.  A lot of Downtown Montreal outdoor locations adds to the realism of the film and gives it a true Montreal feel, including sound.
No special treatment on vampires, just their white skin.
The film starts as a realistic story and drifts slowly into a soft vampire movie.  The sound follows the same direction. Keeping the vampire treatment for the last third of the film is an idea that goes in that direction.
Credits:
Country:
Canada
Production Company:
Zone Films
Year:
2004
Director:
Daniel Roby
Producer:
Daniel Roby
Music:
N.A.
Supervising Sound editor:
Martin Pinsonnault
Sound designer:
Martin Pinsonnault
Sound effects editor:
Anton Fishclin
Production sound mixer:
N.A.
Dialog editor:
N.A.
Foley artist:
Simon Meilleur
Foley recordist:
Daniel Bisson
Adr Recordist:
N.A.
Adr Supervisor:
N.A.
Re-recording mixer:
Clovis Gouaillier
Martin Pinsonnault