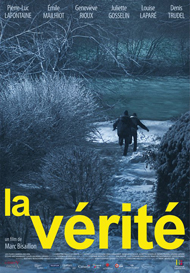 La Vérité is my second film with the duo Christine Falco, Producer, and  Marc Bisaillon, Director.  Two teenagers are struggling with the moral consequences of a crime they have committed an evening of celebration.
Dialogs, ambiences, foley, everything was made to blend together in a transparent way, without any exaggeration.  It sounds like a documentary.  Our challenge was that the viewer would not detect the addition of sound.
Key concepts of the sound design were focused on the idea of coldness, winter, ice, snow and wind.
I recorded many surround ambiences for this film with a double MS system, made of two separate MS Schoeps microphones.  We used those as the general bed of ambiences for several outdoor scenes. The sound of this recording technique feels very natural and was part of the overall aesthetic of the film.
The sounds of footsteps in the snow were done simultaneously on both foley and sound effects with real snow recordings all edited carefully together in perfect sync.
Movie Trailer:
Credits:
Country:
Canada
Production Company:
Camera Oscura
Year:
2011
Director:
Marc Bisaillon
Producer:
Christine Falco
Supervising Sound editor:
Martin Pinsonnault
Sound designer:
Martin Pinsonnault
Sound effects editor:
Antoine Morin
François Senneville
Production sound mixer:
Stéphane Barsalou
Dialog editor:
Mireille Morin
Foley artist:
Simon Meilleur
Assistant Foley artist:
Jocelyn Caron
Foley recordist:
Jo Caron
Adr Recordist:
Benoit Leduc
Adr Supervisor:
Mireille Morin
Re-recording mixer:
Louis Gignac