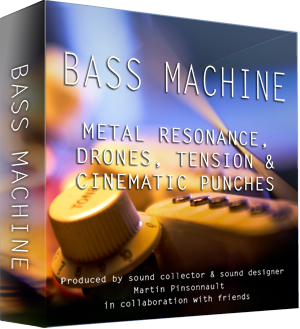 Bass Machine
The collection "BASS MACHINE AND SOUND DESIGN" was created from a handmade instrument containing a single Bass STRING, few pieces of wood and metal and glass bottles. This improvised instrument will endure our sound experiments using Contact MIcrophones.
Several accessories are making contact with the Bass string both small and large, sharp or not, as well as several other objects, tools and also small rotary engines that generates metallic sounds, similar to the one created by the acceleration of motor vehicles. Several effect modules have also been used to help reveal this vast metallic sound palette that we explore with the resonance of metal, your are collecting the fruit of our experiments, a particular and complete set of toolbox for creative Sound Designers.
The result: a collection out of the ordinary, perfect to create low frequency drones and internal resonance. Whether you seek a deep rumble, a sharp or dull metallic drone or a shrill squeak, this collection will add a layer of fat atmospheres that sounds like rumbles, tones, impacts, drones that can dramatize, support the action. You can imagine a ton of things with these sounds. Included in this collection, both untreated (RAW) files and it's derivatives, result of a transformation going through a processing chain and varied Pitch combinations by us, professional sound designers. These moody and sneaky tones are in variety and diversity. Ideal for films, movies, TV series, video games and other media that require deeper and organic sound design, made of real internal resonance.
Ready to use, all catalogued and organised by a complete exhaustive and a logical naming scheme structure.
Word from the creator
"Drones, roars, growls, tensions, tones, squeaks, vibrations and resonances of metal are gathered in large numbers in this collection. Fat layered tones enhance the scenes adding a layer underneath the action. The various resonances provide dense and sharp sounds, its tonal nature gives it hypnotic properties." Sound designers look for solutions to dramatize, add tension, punctuate a moment, swing through transitions or just sustain the moment before the silence, BASS MACHINE meets those expectations and more. High recording sampling rate of 192 kHz and very high frequency response of recordings make future transformations more seamless and inaudible.
Technical info
600+ wav files
96khz/24bit & 192khz/24bit files
13GB+
380 minutes of audio files
All sounds embedded with extensive soundminer metadata, in french and english
Price:
$75.00
Metadata
Credits
BASS SOUND DESIGN
| | |
| --- | --- |
| Produced and directed by | Martin Pinsonnault |
| Sound Supervision, sound recording, and sound design | Martin Pinsonnault |
| Instrument builder, performance, and sound design | Paul Col |
| Sound edit and cataloguing | Thomas Brodeur |